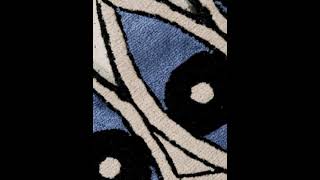 Insured and worldwide delivery

The Invisible Collection finances 100% of the carbon contribution of its expeditions

Secure payment

You can pay by credit card, Paypal or bank transfer in complete confidentiality, all payments are encrypted

Certificates of authenticity

Each piece is authenticated and certified
Price per square meter
60% Himalayan wool, 40% pure silk
120 knots
Bespoke colours upon request
Insured and worldwide delivery

The Invisible Collection finances 100% of the carbon contribution of its expeditions

Secure payment

You can pay by credit card, Paypal or bank transfer in complete confidentiality, all payments are encrypted

Certificates of authenticity

Each piece is authenticated and certified
The Nazar Rug by Atelier Février, in Himalayan wool and Chinese silk, is hand-knotted in Nepal and exemplifies Atelier Février trademark's blend of cultural heritage and modern design. The traditional eye-shaped symbol, believed to protect against the evil eye, is turned into a beautiful pattern on a contemporary rug. The motifs are richly detailed, highlighted by a one-of-kind colour palette and original cutouts. The designs are the result of a thorough manual process for a natural finish. Hand-knotted by expert weavers – every step involves the combined workforce of around 50 people – each rug is literally unique, given its handmade nature, and can be entirely personalized or custom-made, in terms of size and colours.
Founders of Atelier Février, Florian Pretet and Lisa Mukhia Pretet design together outstanding rugs skillfully hand-knotted in Nepal. Their pieces are the epitome of contemporary art fused with traditonal craftsmanship.
A graduate from the Parisian Fashion School Studio Bercot, Florian Pretet is a French designer who worked several years for a prestigious French fashion brand that led him to Kathmandu. Through Atelier Février, he breathes life into his drawing, translating them into beautiful design pieces.
Born and raised between Darjeeling and Kathmandu – where traditions are the culture's cornerstone – Lisa Mukhia Pretet is  a keen entrepreneur with strong love for fashion and craft. Her work experience, exposing her to vernacular techniques, brought froward her fascination for craftsmanship that have been passed along for generations.
Real life partners, coming from different cultural and professional backgrounds, their association is drawn from those common passions for art, fashion, craft and expertise.
Download the Tearsheet
Would like the tear sheet to show price?
Share this product
YOU MAY ALSO LIKE
Other
Hand-Knotted
CURATED FOR YOU
Recently viewed
Worldwide expedition

All our shipments are insured and processed by specialized carriers

Secure payment

You can pay by credit card, PayPal or bank transfer in complete security and privacy

Team of specialist advisers

Our team of design specialists are here to help and will answer all your questions and personalized requests

Certificate of authenticity

Each piece is authentic and certified